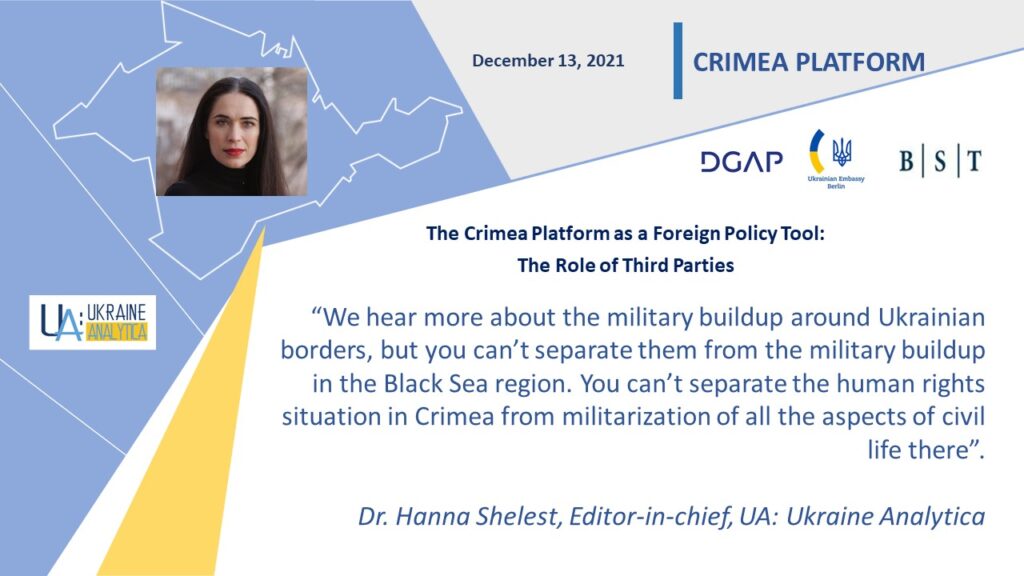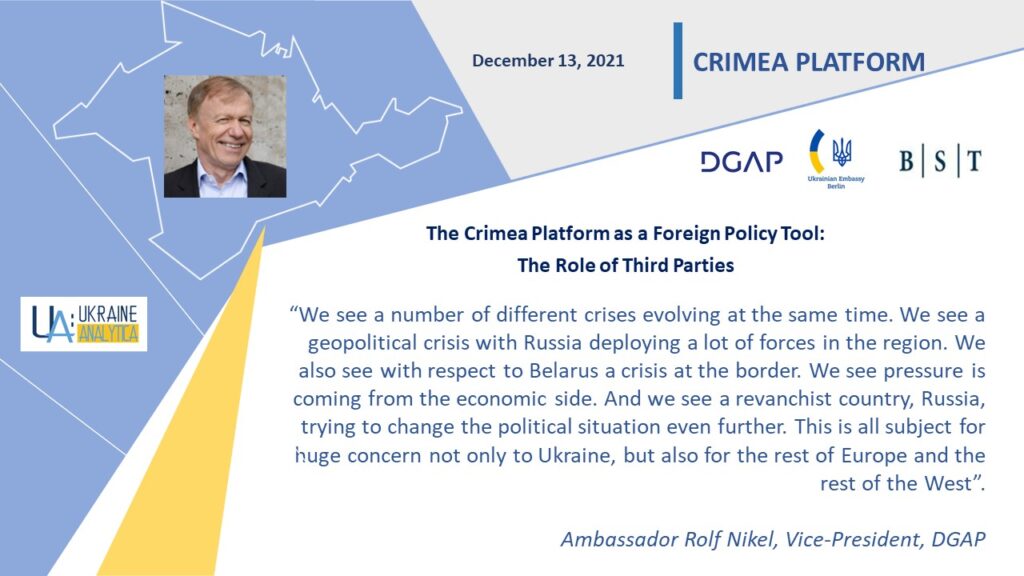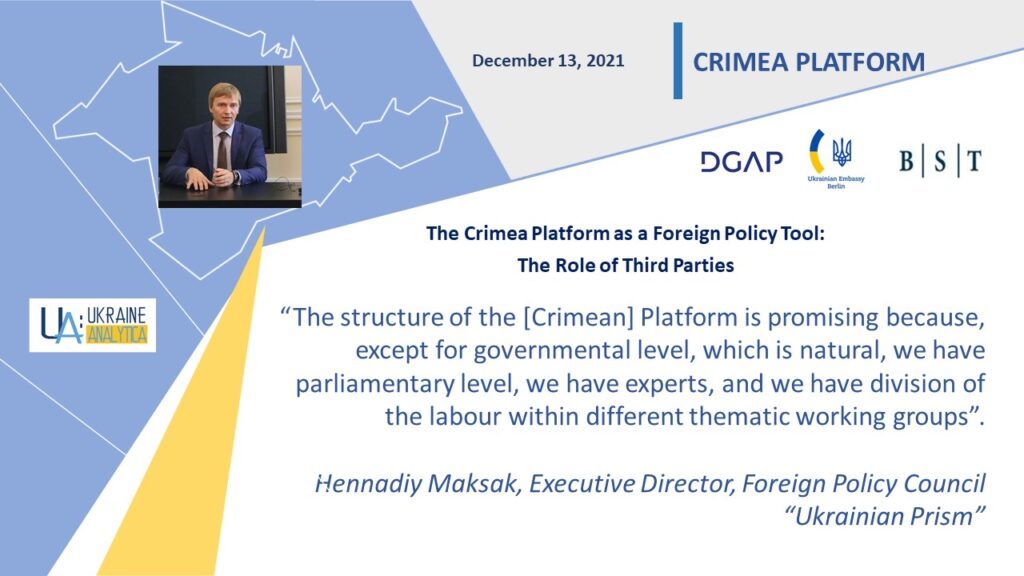 Programme
13:00 – 13:30
Registration of participants
13:30 – 13:45
Welcoming remarks:
H.E. Dr. Andrii Melnyk, Ambassador of Ukraine to Germany
Dr. Hanna Shelest, Editor-in-chief, UA: Ukraine Analytica, Director of Security Programmes at the Foreign Policy Council "Ukrainian Prism"
Amb. Rolf Nikel, Vice-President, DGAP
13:45 – 14:45
Session I: Crimea Platform as a foreign policy tool. Mechanism of implementation
Questions to be discussed: Current situation in Crimea: Human rights violations and other challenges due to the occupation. Crimea Platform – what role of the international community? What are the next steps? What are the practical implications?
Speakers: Henandiy Maksak, Executive Director, Foreign Policy Council "Ukrainian Prism"
Olga Skrypnik, Crimean Human Rights Group
Jean Pierre Froehly Head of Unit Ukraine, Moldova, Black Sea cooperation Ministry of Foreign Affairs of Germany
Alim Aliev, Co-founder of "Crimea SOS", Deputy Director of the Ukrainian Institute
Moderator: Dr. Hanna Shelest, Editor-in-chief, UA: Ukraine Analytica
14.45 – 15.15
Coffee-break
15:15 – 16:15
Session II: The Black and Azov Sea security. Consequences of Crimea annexation and perspectives of the non-recognition policy.
Questions to be discussed: Militarization of Crimea and Security in the Eastern Europe. European sanctions and Non-recognition policy. What can be done further? Implication for Black Sea and Azov Sea security Security for trade routes and economic consequences
Speakers: Dr. Gustav Gressel, Senior Policy Fellow, European Council on Foreign Relations
Alina Frolova, Deputy Head of the Board, Center for Defence Strategies
Dr Bohdan Bernatskyi, Senior Lecturer at Kyiv-Mohyla Academy
Wilfried Jilge, Associate Fellow, DGAP/ZIF
Moderator: Dr. Stefan Meister, Head, Program International Order and Democracy, DGAP
16.30 – 18.00
German-Ukrainian Experts Workshop "Crimea Platform: Next steps and what a role for Germany and the EU? Questions to be discussed: What can the Crimea platform be – challenges and limits? Crimea Platform Expert Network and ways of cooperation with German experts. New Government in Germany – will something change in Russian policy?