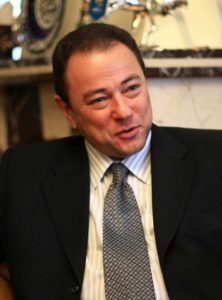 Dr. Sergiy Korsunsky has served as Ambassador Extraordinary and Plenipotentiary of Ukraine to the Republic of Turkey in 2008-2016. In 2006-2008 he served as Director-General of the Economic Department, Ukrainian Ministry of Foreign Affairs.
Ambassador Korsunsky has extensive professional experience with strategic planning and development, including energy, trade and investment policy, regional security. He is a well known expert on geopolitics of energy.
He served as Minister-Counselor and Acting Ambassador at the Embassy of Ukraine in the USA from 2000-2005, Deputy Director, Department for Economic Cooperation, Ministry of Foreign Affairs of Ukraine in 1999-2000, Counselor for Economy, Embassy of Ukraine in the State of Israel from 1994 till 1998.
Dr. Korsunsky authored more than 200 publications, including 10 books. In 2008 he was awarded by President of Ukraine for his economic achievements. He hold a Doctor of Science Degree in Applied Mathematics since 1991. He has diplomatic rank of Ambassador Extraordinary and Plenipotentiary.