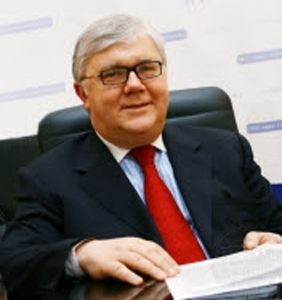 Dr. Igor Koval, Rector of Odessa National University by I.I. Mechnikov since 2010. He graduated with MA in History from Odessa State (National) University in 1978, later received his Ph.D. in Contemporary History and International Relations in 1982 from Kyiv State University and in 2000 Full Doctor (Political Science/IR) from the Institute of World Economy and International Relations, Ukraine.
Dr. Koval areas of academic and research specialization includes Historiography of US Foreign Policy; US-Soviet and US-CIS Relations; Eastern Europe in the Global Geostrategical Context; Foreign Policy of Ukraine; Security and Peace Studies;
Dr. Koval was a Research Scholar, Kennan Institute for Advanced Russian Studies, Washington, D.C., 1994; Fulbright Grantee, Goucher College, Baltimore, MD, USA, 1993; and Visiting Professor, Goucher College/Johns Hopkins University, Baltimore, MD, USA, 1991;
Since 1978, he has been working at Odessa National University, before becoming a Rector being a Director of the Institute of Social Sciences of ONU. He also served as an Advisor for the Governor of Odessa region and occasional consultant to the Ukrainian government, parliament and political parties. Dr. Koval is a member of CIS Association of European Studies (member of the Board since 1990) and International Studies Association (since 1991).